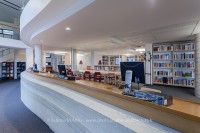 La médiatèque Hector Berlioz est située au rez de chaussée du conservatoire national supérieur de musique et de danse de Paris (CNSMDP). Le conservatoire a été conçu par Christian de Portzamparc et livré en 1990. Près de 25 ans après, la réhabilitation de la médiathèque a été confiée à l'agence d'architecture EA+LLA. Le nouveau lieu a ouvert ses portes le lundi 2 février 2015.
Photos 2015 : Fabrice Dunou, photographe d'architecture intérieure et extérieure
The multimedia library Hector Berlioz is located on the ground floor of the national music and dance conservatory of Paris (CNSMDP). The conservatory was designed by Christian de Portzamparc and delivered in 1990. Almost 25 years later, the rehabilitation of the library has been assigned to EA + LLA architecture. The new location opened its doors Monday, February 2nd, 2015.
Photos 2015: Fabrice Dunou, architectural and interior photographer